It takes time but anyone can be earning an income online and from home.
Depending on how much time you have, earning an income online can be achievable with determination and persistence.
There are so many avenues to explore and the Internet can give you these opportunities. It's up to you to research what is available and even study a chosen subject.
You can learn on Youtube for free or there are courses available on Udemy and Linked In Learning.
2020 has been a year like no other. We have witnessed a pandemic that hasn't been like this since 1918 but we are in a better position today.
Technology is on our side and we have plenty of opportunities at our fingertips.
The following examples are a great way to start looking as one will take your fancy. Some are very obvious but there may be some that you never knew existed.
Let's dive in and have a look at what is available:
Graphic Design
If you have a flair for the creative side then graphic design is an obvious avenue to take.
If you have Photoshop or Adobe Illustrator then you can design anything from logos to flyers and posters. Illustrator is the best one for designing a logo so mastering this will be most important.
There are plenty of courses available and free videos on YouTube with a quick search.
Once you have studied these powerful platform then you can start poaching for work online.
There are plenty of ways to do this and we will list the platforms at the end of this article.
Video Editing
Another obvious way of earning and income online is video editing.
If you know the main editing suites like Adobe Premiere or Final Cut Pro then you will be able to charge individuals or companies to edit their videos.
There are so many options and angles to pitch yourself for editing.
There is also an abundance of social media personalities that really don't have the time to edit their own videos so you could approach them on their page, or channel and ask them if they would like a video editor.
There is also the wedding and events market that you can tap into. This year is out of the question but from 2021 the events industry will start bouncing back and there will be plenty of weddings and events to choose from.
eBay & Amazon
Once again this one is the most obvious but you can earn very good money on these platforms. If you just want to make a few quid clearing out your home then this is the option for you.
Can you earn a full-time income from this? Yes you can but you will need to put the work and effort into this to make it work.
I could write a full article on this as there are so many ways of making money using eBay and Amazon so I'll scale it down as much as possible.
If you like treasure hunting at yard sales or thrift stores then this will be the most exciting way of earning an income online.
Your eBay and Amazon apps have cameras where you can scan an item at clearance isles in stores or at Thrift stores and see how much they are selling for online.
There is a fantastic way of doing this which I will explain in another article which is coming soon. Profits can be in the hundreds if you know what to look for and you can use the apps to your advantage.
Don't forget you can also use Poshmark, Etsy, and Facebook Marketplace for selling items to make cash. These are the most popular and easiest ways of earning an income online.
Selling Music
This is only achievable if you are musical and you have a recording studio. You don't need the huge desks, racks of synths, and musical instruments to fill a warehouse anymore.
The wonders of modern tech have scaled down the studio to 5 feet of space in a spare room of your house.
Those of you who are musical and serious about making music can sell compositions to music libraries.
You will get paid from the platforms that allow you to upload your music so individuals and companies can purchase the license to use your music online or in any media.
You can also sell images or video footage this way if you're a visual creative?
The platforms that allow you to sell music for media are Pond 5 / Jamendo / RX Music / Audiosocket / Audio Network and many more.
Music is highly enjoyable and for musicians, it can be a dream come true to be earning an income online as a musician or composer.



Web Design
It's a competitive market but you could do this locally to where you live. This is what most people forget and once you have learned the skill of web design you can then promote your services locally.
Sign up to Envato Elements for an affordable monthly or yearly fee and they allow you to download web templates, plug-ins, audio and music, images, fonts, graphics and so much more.
You can use all of these elements on your website with no copyright issues. How amazing is that?
Copywriting and Transcription
If you are good at writing and type fast then your skills are in demand. Many people can write articles for websites and earn good money for 500 words or more.
If you are able to produce as many articles in a day as possible then you can earn some good income.
Many websites (including Wot Da Hell Dat) are always looking for talented copywriters and anyone who can produce a good article.
There are plenty of websites that you can approach and ask them if they are looking for writers.
Platforms like People Per Hour and Upwork are great websites that you can sign up for and apply for jobs.
There is an abundance of individuals and companies looking for talent and willing to pay good rates.
Transcription is another really good way of earning. You will receive an audio file from a customer and you will then transcribe that audio into the written word.
Good rates of pay are available if you can type fast and have a good level of literature.
Coding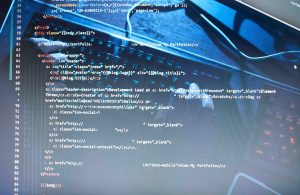 Coding is not the most simple of tasks but you will become the next big game coder once you've learned the language.
Many teenage kids are learning code as it's going to be the next big thing for job opportunities and they seem to have a keen knack and interest in the subject.
If you are extremely geeky and computer literate then this is the opportunity for you. There is some big money in coding and pretty much every language is available to learn online.
Once again Youtube has some great free videos from people willing to teach you coding.
Youtube
One of the most popular ways of earning an income online is with YouTube.
There are millions to be made if you have the confidence to make videos. We are not just saying that it's easy, but like anything else, you need to put the work and effort in.
Over the years YouTube has helped produce the new stars of today that rival mainstream TV as you can make highly professional videos at home with the best affordable video editors available.
All you need is the idea, enthusiasm, and confidence, as well as patience and you, could reach over a million subscribers with over a million views on each video sooner than you think.
Is it easy? NO! But it's achievable if you have the time and hours to film, edit and publish.
There's no time like now while in lockdown. Instead, of sitting there for hours watching Netflix, put your time to use and make a few videos.
Just remember us here at Wot Da Hell Dat when you become famous.
Data Entry
This is not the most glamorous or interesting online income opportunities available but there is plenty of work out there for someone who wants to earn some money.
You will be editing data for online and Transcribing comes into this category.
It can be rather mundane and boring and not as exciting as the previous ideas that we have mentioned but if it's just extra money you're after then you could earn some good income.
You will need to learn the ropes and there are ways of learning online with websites like Udemy. It's worth looking into data entry positions as there are quite a few opportunities out there that are available for quick money.
Merchandise
You'll need to have a flair for graphic design for this. If you have a good idea for merchandise then you can sign up to websites like TeeSpring and Spreadshirt to design Tee Shirts, hoodies, mugs, and anything else that is available on these platforms.
Once you have a design that you know will take off and go viral then you can make a huge amount of money but once again, you will need to make the effort as you'll need to promote the items on social media or websites.
TeeSpring and Spreadshirt will feature them on the website but they will not promote your items. That is down to you and it's not easy but can be achieved with effort and persistence.
Both platforms will take their cut and pay you the rest of the money. They can also pack and ship their end so that takes the stress out of doing this on a vast amount of orders.
So there you go. It's working for many people who are willing to work from home and have the time to work on their goals.
There are many more ways to earning a living online but the above ideas will help you to get going.
A final idea you may consider is becoming a social influencer. If you are on Facebook, Instagram, or Tik Tok then these platforms can be beneficial if you are confident and love making videos.
If you grow a large following then you can monetize your page with ad revenue and sponsored shout outs.
There really are so many ways of earning an income online so get out there and start earning NOW!
Good luck and leave some comments below with ideas so we can all benefit from them.