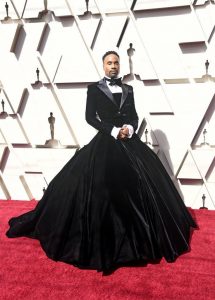 Billy Porter wears a gown at The Oscars and gets the attention he craves. The gown was designed by Christian Siriano and incorporated a Tuxedo.
I'm not entirely sure this is the look of 2019… or is it?
Kinky Boots star Billy Porter seems quite comfortable in the gown. He mentioned that he has always loved fashion and blames his Mum and Grandmother for that.
Billy said that he has always had so much homophobia due to his clothing choices in the past and maybe he will get the same attitude once again.



His latest acting role in Pose has given him the opportunity to show off this black gown at the Oscars. The gown is Luxe-Velvet and he is so proud of the outfit that he had taken to Instagram to inform is followers.
Instagram is a great platform to show off new clothes and Billy has taken advantage of this. If he feels good and comfortable in the gown then good luck to him. It's not our "cup of tea" as they say in England.
Twitter was also alight with praise and approval with many taking to the social media platform to show their love.
Those that didn't approve gave him fierce looks at The Oscars. His response to them was: "Women show up every day in pants but as soon as a man wears a dress then the seas part"
Billy's life long ambition was to wear a gown. His burning desire was to parade in front of the cameras swishing his long dress back and forth while the paparazzi take an abundance of photos.
His burning desire has finally come true. He has certainly turned heads at the Oscars as well as causing mixed emotions on social media. Some people loved his new makeover.
We would love to hear your views so don't forget to leave comments below.
#Watch: Do you see what I see? #GlennClose loving #BillyPorter's outfit ???
__#korshiedablogger pic.twitter.com/8hOQCRyget

— Korshiedablogger ?? (@__Korshiedablog) 25 February 2019