A video has emerged online of an Irish family trying to catch a Bat which has obviously flown into their kitchen.
The video below is the funniest clip we have seen all year so far. It features the dad trying to catch a Bat that has flown into the kitchen in Ireland. The commentary from the cameraman is just fantastic which has various sound bytes of 'catch him Derry' throughout the clip. If you thought that was funny then the mother can be seen with her face pressed up against the kitchen door window looking into the kitchen (obviously terrified).
The video is laugh after laugh and you even get a glimpse of the dog peeing on the kitchen floor which could well be out of fear or excitement maybe? Some of the words are hard to make out due to the strong Irish accent but this makes the video even funnier.




After many attempts of trying to catch this Bat that has mistakenly flown into the kitchen, you then see the successful look on the Dads face as he finally manages to whoosh the Bat back outside with a relieved look on his face.
The content creator has conveniently called the video 'Bat Dad' but we reckon it should be called 'Catch Him Derry' and you can even see the hashtag #catchhim on Twitter.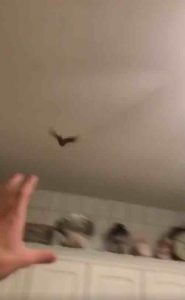 We would love to of had this video on our Facebook page but unfortunately, we were unable to have access to it so we decided to feature it in our post on the Wot Da Hell Dat page.
Check out the video below for the best laugh you will have this summer.
What a crazy day ????? #BatDad #CatchHim pic.twitter.com/ztXpAf03qn

— Tadhg Fleming (@TadhgFleming) September 5, 2017