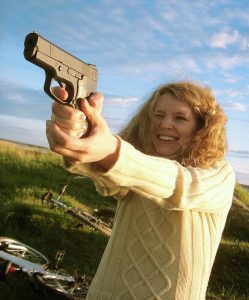 Thousands of gun owners in Florida have come together to 'shoot at Irma' to make it go away. The event started on Facebook and many have signed up to shoot at the storm.
While Miami and Florida State brace themselves for one of the biggest storms in recent years many Floridians are not having any of it and seem to think that shooting at Irma will make it go away. A guy called Ryon Edwards created the event on Facebook because he was bored and the response he received was incredible. So many people signed up to the event and are getting their guns ready to shoot at Irma.

Ryon stated that he has received photos of people with guns that are ready to take action at the monster hurricane and see it as a way of showing off their 'Big Guns'. He said that some of the comments were about out of this world with some saying "I'm gonna shoot this bullet straight into the eye of the storm" and another saying "maybe it's not a good idea as the storm could get madder".
Some comments have been aimed at Trump and saying that they need to shoot him into the storm and that he may have something to do with the ferocity of Irma. Ryon never knew that the response would be as mad and as popular as this and finds it quite amusing. It's been so popular that another group on Facebook has been created where people want to shoot flames at the Hurricane. I don't really know whats more insane – shooting bullets or shooting fire?
On a serious note, the storm has intensified to a category 5 storm as it's picked up speed from the Carribean. The wind speeds are expected to be 160mph so it's a storm not to be messed with so please don't stay behind and shoot bullets or fire at the thing. If you are in this area of the US and you are just taking the warnings with a pinch of salt then you need to seriously think again as this storm will be very large indeed.
We wish you all the luck in the world at Wotdahelldat and hope that you stay safe and be sensible (unlike these mad lunatics who think they can shoot at the storm).
Please comment below and tell us what you think of these crazy people.