Innovation is winding up more incredible consistently and we depend on this innovation progressively to make our lives less demanding. The order & pay app is no exception.
We keep up to date of the most recent developments so consistent now ending up second nature to every one of us.
Every week a new app, gadget or piece of software is in development and we get to the stage where we are expecting more devices, software or apps which make us more incapable and lazy.
It was only a matter of time when the food and catering industry included their own technological development and available in a simple smartphone app.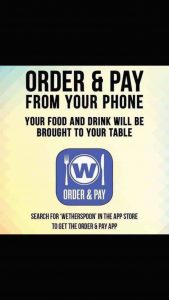 How does the app work?
Restaurants are places where we enjoy relaxing over a nice meal with friends and relatives. When a restaurant is busy service can be very slow and queues become a stressful part of the experience which we hate. 
The new order & pay app for restaurants is becoming more popular and customers are appreciating how convenient the order & pay app is for ordering food and drinks.
The app is basic. You arrange your food and drink at the restaurant on the app while sitting at your table with Apple Pay. When you request your order, your food and drink are then conveyed to your table which is better than sitting tight for waiting staff to arrive to take your order. 
You can even receive food and drink ordered from friends, colleagues, and relatives who live thousands of miles away (as long as they include the app on their smartphone).
5 reasons why the app is so great?
1: Order & pay without waiting
2: No need to attract the attention of waiting staff
3: Order for friends, relatives, and colleagues without being at the restaurant
4: The app is able to order all food and drink.
5: You can be thousands of miles away and order your friend food or drink.
Wetherspoons in the UK have been featuring the app for a while now and they are happy with the outcome. Many customers are using the app to order food & drink and friends & family who can't be with you can contribute to your meal.
Lee Marshall (otherwise known as) Discoboy is a social media celebrity based in the UK and has released a video which has been featured on our Wot Da Hell Dat Facebook page. You can see Lee and friends having a huge feast at the expense of Lee's fans on Snapchat. 
@Jaack that Wetherspoons app thing is genius I only discovered it a couple of weeks ago but next time I go in there I'm letting my snapchat know what table and location I'm at brilliant they always say they would buy me a beer etc

— DiscoBoy (@DiscoBoyUk) January 16, 2018
The very generous Fanbase are ordering the guys food and drink while the Wetherspoons staff are having trouble keeping up with the orders.
You can see more food coming out and bottles of beer, shots, and glasses of milk for the guys sitting at the table. The restaurant manager had to put a stop to the ordering as it was getting out of control. 
Apart from the likes of UK prankster Lee Marshall having fun with the app, there is a future for this convenient technology and, other restaurants like Pizza Express and Wagamama are featuring the app.
Let's hope it takes off!