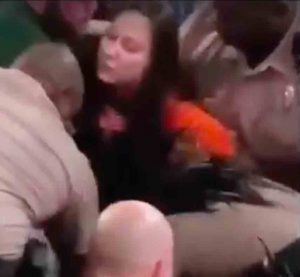 A woman slaps cop while being dragged out of the stadium during a Miami Hurricanes-Virginia Tech Hokies gridiron game. The cop gives her a harder slap back.
The drunk woman slaps cop and gets taken out of the stadium by 4 cops when the disturbing footage on a recent video shows the woman slapping the cop and the cop slapping the woman back, The woman must be a hard one to control as you can see 4 cops trying to control the situation.
Maybe the cop was too shocked to even think straight while receiving a slap across the head. Did he really need to strike her twice as hard? Many would argue that she deserved it and some would also argue that the cop was too heavy-handed. We feel that the cop was in the right to do what he did but maybe not quite as hard.
The story and video have been doing the rounds today and there seem to be only a few stories floating around to what happened to the girl. Apparently, she was arrested outside the stadium and the cop was nursing a very sore hand after the incident. She has a massive hand mark on the right-hand side of her face which looks like it could take weeks for it to disappear.
Many people are asking why she was dragged out of the stadium and the rumors are that she was shouting "Trump's hair is real and he is the best president ever".
She was very very drunk and maybe that was the reason for her stupid outburst. One of the cops then asked her politely to shut the f**k up and then she turned abusive.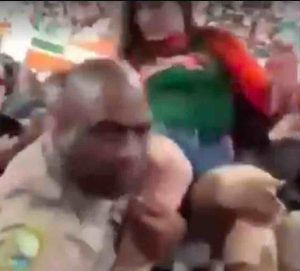 It then took four cops to control her and lift her up and toss her out of the stadium (nicely). Many of the people around her were obviously very shocked by the incident and the heavy-handed slap from the cop.
Let's hope the hand mark heals up on the girl's face. She has mentioned that she is thinking of getting a tattoo on her right cheek with the words "cop slapper". We think its a great idea.
See video below: