We love a good debate on social media, don't we? There is a good discussion on the groups and also on platforms like Reddit where there are a few folks who are debating on which State is the best?
Your opinion can be based on various aspects including statistics, where you live, community spirit, shopping, employment, quality of life, and experiences.
With a total of 50 American States to choose from the debate gets a bit more difficult. Many folks who are involved in this online debate are loving Texas and the city of Austin which has a reasonable cost of living, friendly people, and great climate.
Florida is coming in as a very expensive place to live and California is even more expensive according to many people who live there. There is an indication that Maryland is a nice place to live with its diverse climate
Michigan is another favorite for tourists who fall in love with it once they visit. Employment is not great but the surroundings are beautiful and the Great Lakes is a must-see.
California has very mixed opinions and as mentioned, it's very expensive to live and stay there. The climate is very appealing and the media and tech companies attract many young and ambitious people.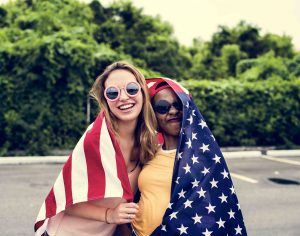 Many residents of California joining the debate have mentioned that the crime rate is fairly high and the homeless crisis near the cities is getting worse.
Education is very good and the universities are fantastic which breeds a culture of highly educated graduates that can land themselves good employment.
If you are planning on living in any of the 50 states then you will need to research the price of real estate. California's real estate is at its highest and mainly due to the employment statistics. Its the hub for media and tech jobs which makes the areas more desirable.
If you want diverse weather then the Northern States can give you a mixture. Apparently there was a weekend of 70 degrees followed by a blizzard just over a week ago in Minnesota. That must of been a huge shock to the system like going from Spring to Winter in a matter of a few days.
To list 50 States and mention all the pros and cons of living there would be a mammoth task and books worth of content.
I am sure we would all agree that the US alone has a vast amount of natural beauty as well as some of the biggest and best cities.
There is a vast ecosystem that includes Mountainous regions, marshland, deserts, and swamps. The cities will always be more hectic and fast-paced and the countryside will be slower-paced and more relaxed. It's like that all over the world, to be honest.
Everyone is saying that if you desire "BIG" then Texas is the place to be. To be honest, preferences are down to the individual and if you like diverse climates then the Northern and North-Western States like Oregon will be more desirable and if you like warmer climates then the Southern States is the obvious bet.
You can see why America is a popular place for may to either live or visit as it has something for everyone. After thorough research, you can pick the ideal State for you and you need to remember that each individual is going to like or hate the area through personal preference.
A great place to start is for research is here. 
Have your say in the comments.