University students are feeling emotionally distressed over the first presidential debate.
Case Western University hosted the September 29th debate and the students have been emotionally affected by the first round.
Support spaces are being offered as a way of calming the students down as many have been having anxiety attacks after watching it online.
The support spaces have been set up as a method to help students overcome the abundance of controversial events occurring around the country.
There was a similar situation during the 2016 presidential debate with Trump and Hilary Clinton but this one is having more of a profound effect emotionally as many students don't like President Trump.
The first support space session was set up 36 hours before the debate to help the student's mental health. One student quoted that the very thought of Trump winning in November gave her panic attacks.
Back in 2016 the campuses offered safe spaces and included therapy dogs and plenty of counseling.
There is a vast mental health crisis here in the US and other countries are having the same issue due to the current pandemic and economic instability.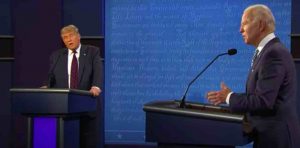 The first presidential debate was certainly a heated one and on various occasions, Trump and Biden locked horns making viewing very fretful. The mention of Antifa as a far-left organization and The Proud Boys who have been labeled as an "extremist group with ties to white nationalism" has stirred emotions even more.
The constant harks of "shut up" from Biden to Trump seemed quite entertaining for many Biden supporters.
The build-up to the election in November will be an interesting one for sure and it certainly looks like those who support Biden will be very agitated as we close into the election.
Who knows how these students are going to cope with the second debate.
What did you think of the first presidential debate?