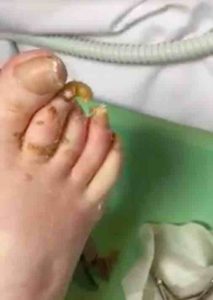 Fungal toenail infection is an unsightly horror that can be caused by wearing footwear infected with fungus. It can be treated with surgery if it gets really bad.
21-year-old Motoe Smitherman from Dawson City Canada has been treated for fungal toenail infection recently from her surgeon. Smitherman was extremely shocked to wake up one bright, cold and sunny morning to see her horrific toenails.
She said "it was like something out of a horror movie. I woke up and found this alien looking foot at the end of my bed and felt incredibly sick just looking at it"
Smitherman had what is called a fungal toenail infection which can be caused by infected footwear. Her cowgirl boots were probably the cause of this horrific infection and she said that she is worried about wearing them again. The official term for this infection is Tinea Fungus and is quite common with people over 40 and can infect about 15 percent of the population.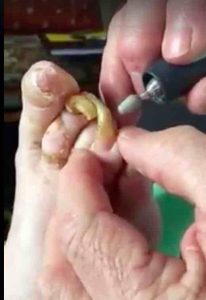 We asked Motoe whether she had this condition before and she stated: "I have never seen anything like it and the only reason I can think of is either my cowgirl boots have caused this or it could have been because I was sipping a "Sourtoe Cocktail" which is a tradition in Dawson City"
It took some effort on our behalf to try and convince Motoe that it was nothing to do with a Sourtoe Cocktail or even the fact that her first name has 'toe' incorporated into it. She is still looking into the reason why this has happened to her once beautiful foot. The only advice we can give her is to stop wearing those boots for long periods of time as the feet can sweat and cause the foot to become fungal.
Anti-fungal drugs are one of the best options for treatment after the surgeon has hacked away at the unsightly demon toes. It could have been a whole lot worse for Motoe as her surgeon may have suggested toe amputation which would have been disastrous for her. Her name would then be 'Notoe' which would have been more suitable.
Anyway, she is on the mend now and her foot is looking so much better than it did before so we have warned her not to sip any more Sourtoe Cocktails just in case the infection returns.
Watch the video below.