Any adult fluffy toy collection would benefit greatly from the inclusion of the Oopshana Japanese Cat Plush Toy.
It is certain to make anyone grin with its fluffy exterior and beautiful appearance.
The balls on this toy, however, are really what makes it stand out.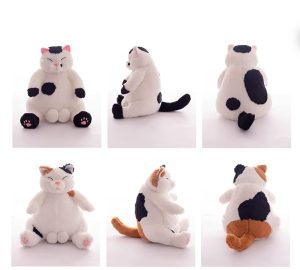 Indeed, you heard me correctly—it has balls. Two flawlessly round, soft balls were affixed to its tummy, not just any balls.
You might be wondering why a toy meant for adults would include balls at this point.
Let me just say that these balls have a very vital function.
They're not just for show; they're also for stress alleviation and squeezing and squashing.
You see, as adults, we all experience a lot of stress.
It can be overwhelming, whether from job, relationships, or just the inherent turmoil of the world.
The Oopshana Japanese Cat Plush Toy, however, allows us to transform that stress into something constructive.
Just take hold of those balls and squeeze them firmly.
You'll definitely smile after getting what amounts to a mini-massage for your hands.
The Oopshana Japanese Cat Plush Toy is a terrific conversation starter in addition to being a stress reliever.
Think of having this cute little boy sit on your coffee table while you host a dinner party.
Your visitors will undoubtedly inquire about it out of curiosity.
They may all learn about its balls and how effective they are in relieving stress from you.
So, if you're feeling stressed, grab the balls of the Oopshana Japanese Cat Plush Toy and squeeze them.
It'll make you the talk of the town and put a smile on your face.
The reviews are even funnier:
"I was hesitant because of the cost but if you have someone in your life with a good sense of humor and a love for cats – just buy it. This was the best Christmas gift for my unique brother in law."
"He's cute, I like the humor but the balls should of been sewed together more tight. I got the smaller version at a price of $30. Not worth the price, more likely a $12.99 product. It is cute and soft. Oh well, He is a member of my family now, I can never return him."
"I would just like to start by thanking whoever's mind brought me this beautiful piece of art. I personally suggest they bring this product to Build-A-Bear so we can choose how full to make the gnads. The missing star, however, is due to the fact that all the stuffing in its balls, not enough in its body. Wish I could cuddle with more than just the gonads. Otherwise, this was a great financial decision. *Chefs kiss*"
"Wow, I bought this to give as a gag gift, but ended up amazed at the quality, softness, and cuteness of the kitty. I want to buy one for myself and everyone I know now. Normally I have a "no balls allowed" policy for all cats living in my house, but I'll make an exception for this fat little kitty!"
"When I was suggested this in my "for me" category, I died laughing, then went about my day… and then I came back, simply too tickled by this cat with balls. After some soul searching, I decided I did in fact need a kitty with big balls in my life. I bought the smaller version first, which is incredibly cute and well-stuffed. However, I thought maybe the bigger version would be better for cuddling, so I grabbed that one, too. It's the perfect size for hugging (for reference, I'm 5'2″), but like another reviewer mentioned, this version could really use more polyfill to give him a less floppy appearance. I tossed them both in the dryer as recommended, and the bigger one is still way squishier."
We always find the craziest items so keep looking for more coming soon.