Dadbag is the new wonderful accessory for men coming to a store near you soon. It's for the skinny geek with a passion for sporting the 'Dad Bod'.
While many Dads are ashamed of their Dad Bods and would do anything to slim down and lose that extra tyre around their waste, there is a high percentage of men that would love to have that extra weight on their belly area.
There are also many younger guys who are skinny geeks that just want to look like their Dads and struggle to put on that extra bulge around the stomach area. Dadbag is going to be a massive hit with the lads who love the Dad Bod.
The Dadbag is the new accessory for men will take away the frustration once and for all. The ladies will also love this look once the Dadbag is strapped around the waistline. Your T-shirt can then just hang over the top part of the bag making it look like a Dad bod. It's the perfect look for the skinny geek.



We recently asked a young man whether he would want one of these Dadbags. Tyler Warrington from New Hampshire stated:
"I would definitely buy one of these as I am only 22 years old and my Dad has crafted his Dad bod over the last 25 years of drinking beer every night and this will fast-track me into Dad bod heaven".
There are Six varieties to choose from; 1 – The Allen, 2 – The Derek, 3 – The Magnus, 4 – The Bobby, 5 – The Wolfgang, 6 – The Sherman.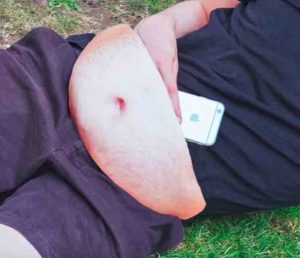 We have approached a few ladies recently and asked them what they thought of the new Dadbag.
Amanda Strapper from Ohio stated: "At last my boyfriend will look a man rather than a skinny freak geek"
Looks like it will be a huge winner.