The video of an elephant smoking shown in this article is confusing the hell out of scientists worldwide.




If someone told you they had a video of an elephant smoking you wouldn't believe them. This video is going viral and features an elephant smoking a burnt piece of wood.
The elephant can be seen inserting burnt wood into its mouth and blowing out smoke seconds later. It really is bizarre to watch and confusing everyone who watches it.
There must be a rational explanation for this crazy behavior surely?
Apparently, there is a good explanation. Charcoal is very powerful and a natural treatment to rid of toxins and unwanted chemicals from the body.
Animals like elephants have this inbuilt knowledge of natural remedies that many humans have been suppressed for years. The effects of charcoal can treat poisoning as well as digestive issues so this could be the reason for this bizarre behavior.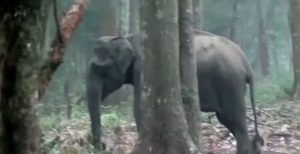 Charcoal also treats mold and filters water as well as lower cholesterol so it has many benefits. Maybe the elephant had excess gas and problems with flatulence or it had indigestion from eating too much?
According to various sources elephants are not the only animal to get caught smoking. An Orangutan was also filmed smoking a cigarette at an Indonesian Zoo recently and the video of that is also below so you can see it in its full glory.
What will we be seeing next? A smoking Horse or crab?
Check out some very interesting, funny and bizarre videos below including the recent video of the smoking elephant.
Here is the smoking Orangutan that was spotted in an Indonesian Zoo.
And to round off the video selection, the cigarette smoking crab.
As usual please share, comment and like so we can keep on posting varied content on our website, Facebook page, and Instagram.